Exploration
and Production
We are applying our extensive geological knowledge and professional experience in Slovakia and abroad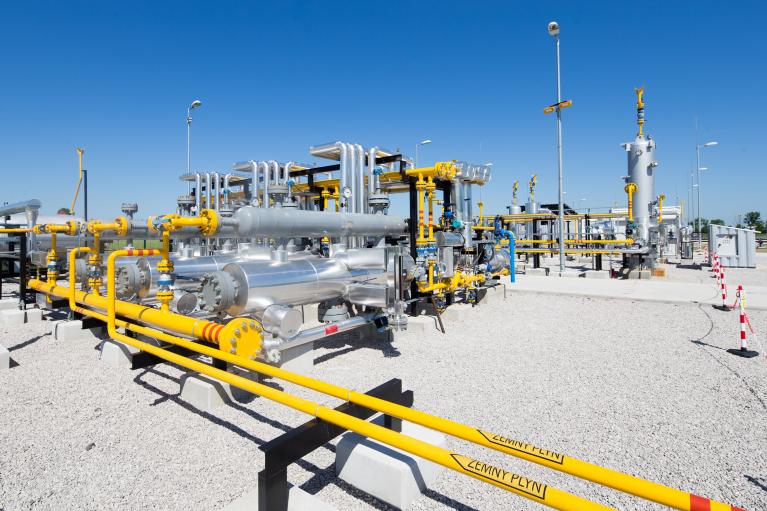 Exploration and Production
Ever since crude oil was first discovered in Slovakia's Záhorie region, geological data has been acquired and researched and much progress has been made in gaining technical knowledge and experience. These are the foundations for NAFTA's operations, forming a critical part of its unique know-how and behind its success in geological and drilling projects. We see the specific use of geological data obtained, for example, in understanding of the earth's geological composition or in searching for sources of geothermal energy.
NAFTA is currently the most important player in Slovakia's oil and gas exploration and production sector.
We have long been active mainly in the Vienna Basin, Danube Lowland and the Eastern Slovak Lowland, where the country's most important regional hydrocarbons are located. In order to continue production and remain strong in this specific sector, NAFTA has expressed interest in concentrating in future on exploration in other regions in Slovakia, too.
The company's main priority in everything we do is operational safety and minimizing the impact of our activities on the environment and local communities.
What exploration is NAFTA doing?
The first step is exploration work, mainly taking geophysical 2D/3D seismic measurements. Results from these measurements provide knowledge about the geological structure of the rock and soil environment, which can also be used for other purposes, such as searching for sources of geothermal energy and drinking water.
Based on the interpretation of these seismic measurements, the next step is to drill exploration wells.
What are the benefits from exploration?
Local sources of natural gas

Cooperation in identification of drinking water sources

Cooperation in identification of geothermal water sources

Collaboration in various municipal projects
Attention centered on the environment
NAFTA takes a responsible approach toward shutting down sites of our operations in Slovakia, including wells, drilling centers and parts of them through cleanups, biological reclamation and reintegration into the surrounding nature. 
NAFTA operated a mud pit in Moravany between 1984 and 2006, where production waste from its drilling was deposited. Subsequently, we embarked on successfully closing it and reintegrating the land into the countryside. Work to close down the mud pit was completed in July 2019.
Slovakia
Exploration projects in Slovakia are bringing also international cooperation and investments. We are partnering in the Trnava and Topoľčany Exploration areas with Vermilion Energy and in the Eastern Slovak Lowlands with Aspect Energy. 
Where is NAFTA operating in Slovakia?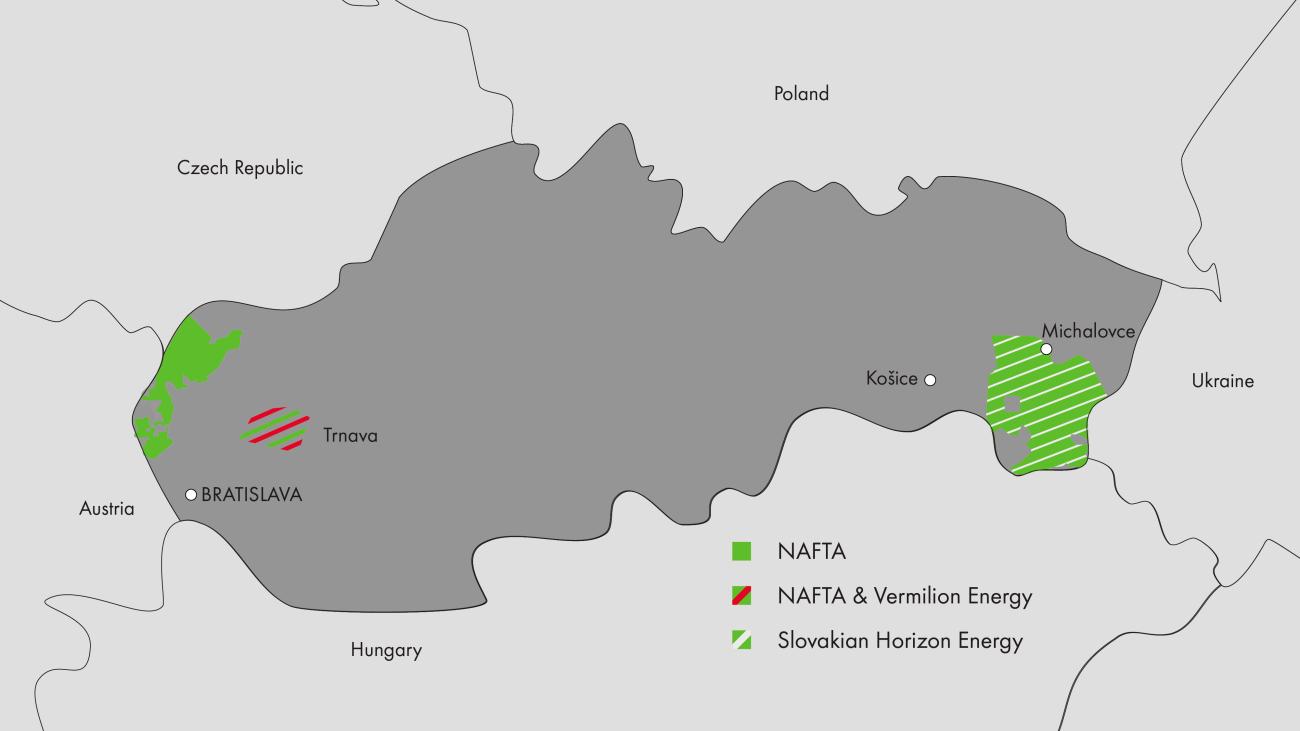 Overview of current exploration by NAFTA and international partners in Slovakia:
| | | |
| --- | --- | --- |
| Exploration Area | Trnava | Beša a Pavlovce nad Uhom |
| Partner | Vermilion Energy | Aspect Holdings |
| Area | 394 km² | 771 km² and 1 070 km² |
| Geological Area | Danube Basin | Eastern Slovak Lowland |
| Cooperation Form | Joint Operating Agreement (JOA) | Subsidiary Slovakian Horizon Energy s.r.o. |
Ukraine
NAFTA is using its many years of hydrocarbon exploration and production experience even beyond Slovakia's borders.
Its successful start of foreign activities began with the company entering into Ukraine, where it operates since 2016.
Exploration licences obtained in Ukraine: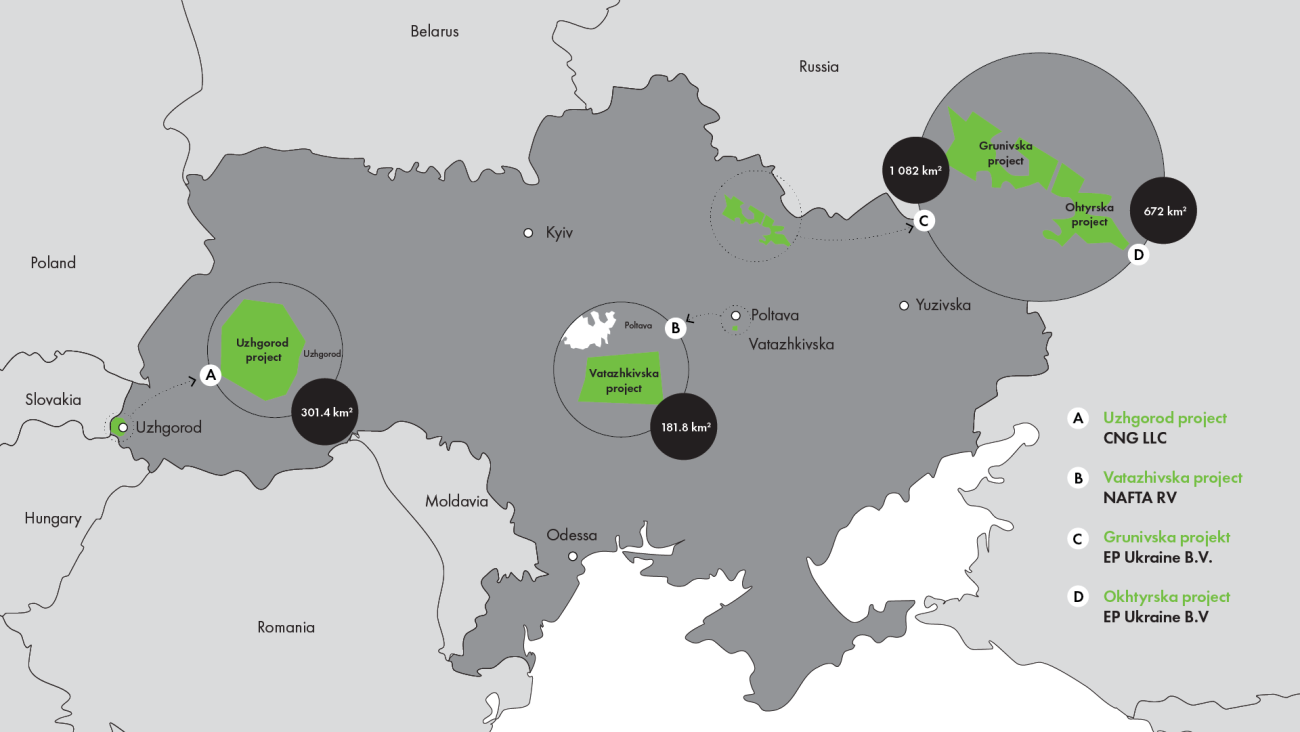 NAFTA has been slowly developing in the country and engaging in public tenders. For instance, last year we were successful n a tender for two PSA projects - Grunivska and Okhtyrska. Both licenses enabled us to obtain new exploration and production opportunities in Ukraine.
Overview of current NAFTA exploration and activities in Ukraine:
Project

Uzhhorod

Vatazhkivska

PSA  Grunivska
and Okhtyrska

Partner

n/a

n/a

EPPE

Area

301.4 km²

181.8 km²

1082 km² a 672 km²

Geological Area

Transcarpathian Depression in eastern Slovakia; Region: Transcarpathia

Dneper-Donets Rift

Dneper-Donets Rift

Operator

Subsidiary CNG LLC

Subsidiary NAFTA RV

Subsidiary EP Ukraine B.V.
NAFTA is constantly seeking further foreign activities and joint ventures where it could apply the geological knowledge and expertise it has gained from many years of experience. We are focusing on opportunities in Central and Eastern Europe as well as in the Balkans.