Support
Services
NAFTA offers expert rescue, laboratory, research and diagnostics services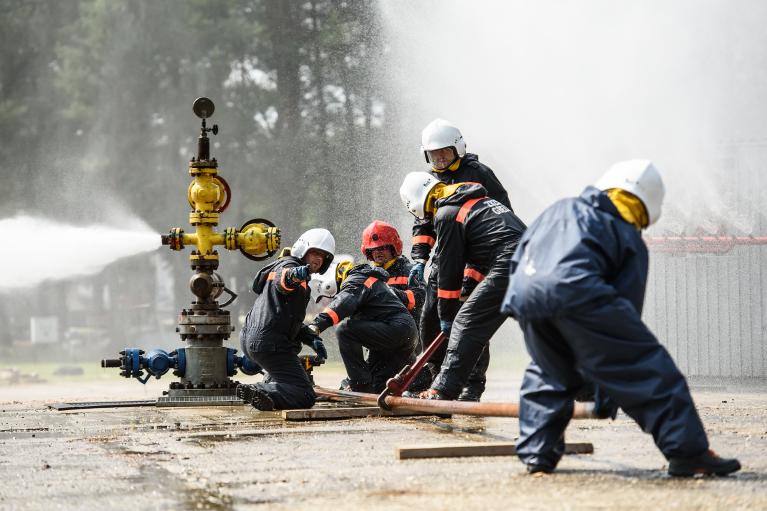 Support services UGS
Mining Rescue Service
NAFTA has a special rescue unit for emergencies, the Mine Rescue Service. The mine rescue service is part of the Slovak Republic's integrative emergency services, playing a role at two levels:
Plant Mine Rescue Station staffed by operations personnel

Main Mine Rescue Station, composed of professional mine rescuers
Mine rescue station members regularly engage in workover exercises covering different types of emergencies and are presently cooperating with all other rescue units.
Services for External Partners
Our team of experts from the Main Mining Rescue Station also provides outside partners with specific training, drills and services.
Specific courses are provided in operating and maintaining breathing apparatuses.
Besides courses, different training exercises are offered to external partners:
Training in a smoke environment

Firefighter training drills

Airplane cockpit drills – fire and smoke training accepted by the Slovak Republic Civil Aviation Authority

Drills at a training well according to customer requirements
Other services offered include:
Special operations - drilling valves and fittings under pressure

Filling pressure cylinders

Portable measuring and indicating equipment

Working in unbreathable environments

Organizing teambuilding with the focus on practical fire protection training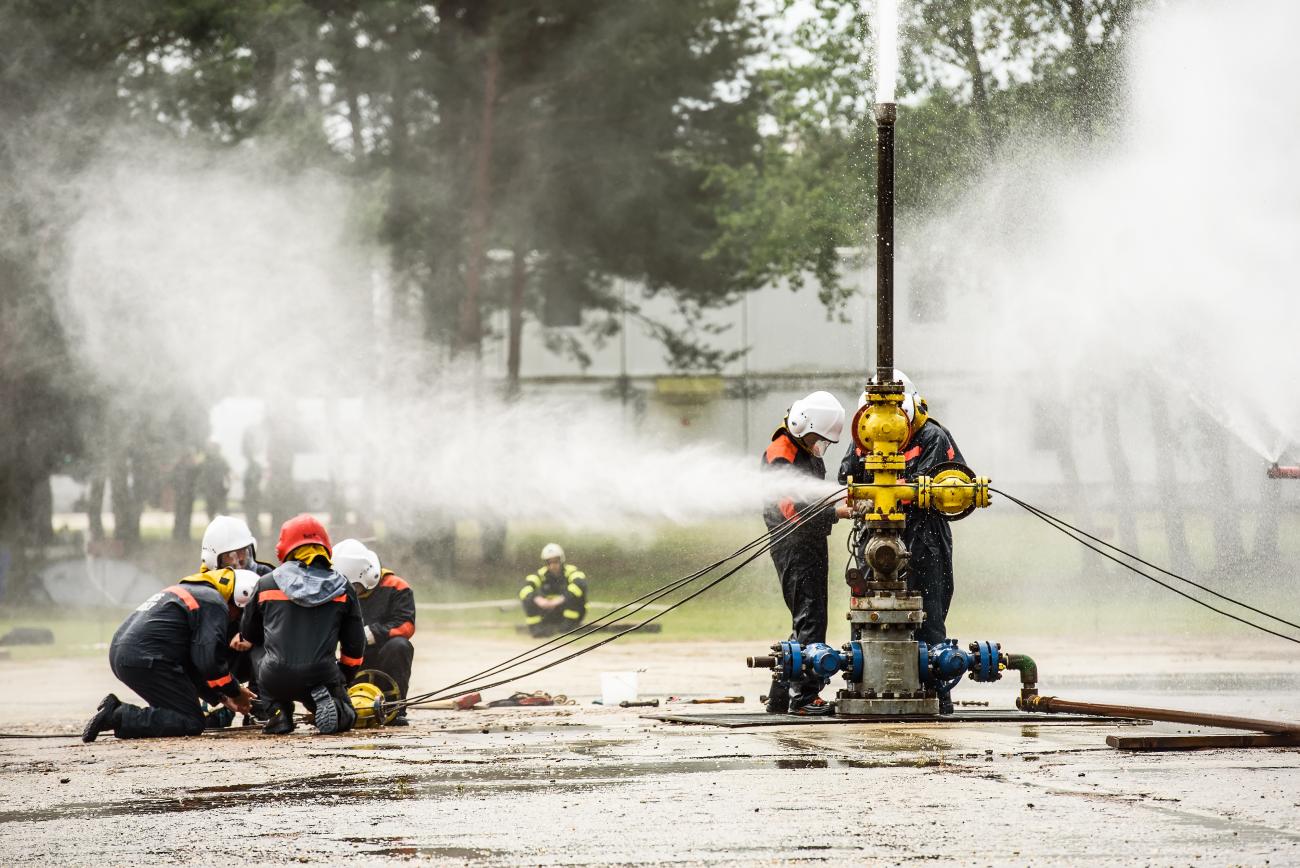 Laboratory Services
Laboratories are part of NAFTA's specialized services department. Staff at NAFTA laboratories provide natural gas output quality control, treat produced natural gas, maintain technological media in a state of readiness and take care of other requirements for physical and chemical laboratory work.
Laboratory Services include testing and analysis of natural gas (according to ISO 6974 a ISO 6976 with international certificate from Interlaboratory Studies, Spijkenisse, The Netherlands) to determine benchmarks for quality, composition and also isotopic analysis.
There are two types of natural gas sampling for analysis and testing at NAFTA's laboratory:
sampling at operating pressure (according to ISO 10715, API 14.1, GPA 2166),

sampling at low pressure sampling into inert bags with a sampling pump.
Slickline Services
NAFTA's specialized services department also covers well testing. Our reservoir engineers, geologists, technologists and well engineers monitor the status of wells and related deposits. Well testing is a commonly used term for "slickline" and "wireline".
Slickline 
Slickline is a type of well intervention where a slickline or wireline is introduced in a well through its Christmas tree. These are used for physical measurement and mechanical operations at the desired depth.
Wireline
Wireline covers the surface assembly of fittings and outlets that form the Christmas tree. These are controlled from both the drilling rig and the safety barriers underground and in the well completion. Essential downhole information can be received through the wellhead outlets in the following ways:
Measuring pressure at the wellhead

Taking samples at the well head (especially gas samples) and putting them into constant pressure cylinders and inert gas sampling bags (according to ISO 10715, API 14.1 and GPA 2166)

Using sonology to measure column ring levels

Detecting leaking methane on surfaces

Downhole camera

Production logging
NAFTA is certified for downhole operations in accordance with ISO 9001:2015, ISO 14001:2015 and ISO 45001:2018.
Diagnostics & Detection Services
Besides normal maintenance of storage facility equipment, NAFTA's maintenance department is providing new specialist work that covers predictive and diagnostic maintenance of critical infrastructure.
Detecting and quantifying natural gas leaks through optical gas imaging (OGI) using infrared cameras with sensors that are designed to detect hydrocarbons and an application to determine the amount of leaking gas.

Diagnosing control valves through a set of diagnostic instruments supported by an application that diagnoses how valves are functioning and predicts the probability of future failures/general overhaul.

Diagnosing ball valve tightness through a set of measurement instruments and know-how to verify the degree of tightness for most valves above DN100 as an important foundation for capital projects.