Innovative Projects
Just a small step from gas storage to energy storage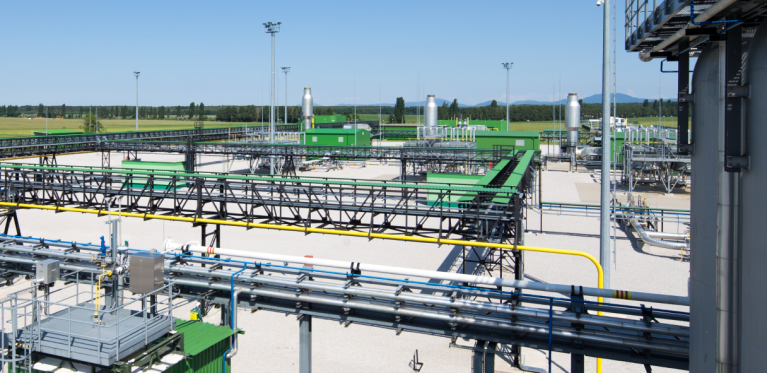 Innovative and development projects
Many years of technical experience in underground natural gas storage are being capitalized in the planned transition to low-carbon energy, particularly in the incorporation of innovative energy storage methods. NAFTA has long been engaged and taking the initiative in innovative and development projects. All this started back at a time when such ideas were not as strongly perceived by society as they are today. These efforts began in 2014, when NAFTA joined Underground Sun Storage as a consortium member and later worked on several projects with a number of major professional partners. Because the green economy, and specifically hydrogen, are today key topics at both the European and national level, we believe that NAFTA will also be able to win public support here.
We are highly aware of the possibilities for synergies between gas and renewable energy in the future. Our innovation department is focused on the development of potential co-operations in this area as well as on our own projects.
Creating synergies with renewable resource
NAFTA has also declared its interest in creating synergies with renewable resources by the pilot installation of 142 solar panels at its particular operations. Work is continuing on projects to install additional renewable energy sources at our facilities, using both NAFTA know-how and advantages of existing infrastructure.
Underground Sun Storage
The most promising innovative projects for the future particularly involve increasing the value of natural gas storage facilities, whether through more flexibility, efficiency or through projects concentrating on storing energy produced from various sources. Such project was Underground Sun Storage, where NAFTA has partnered with RAG. Since 2014, when NAFTA became part of Underground Sun Storage, it has been actively engaged and is participating in a number of energy storage and hydrogen projects both in Slovakia and abroad. The project was in itself unique in Europe in that it took place under laboratory conditions and in the second phase directly at an depleted natural gas field.
Underground Sun Storage showed that storing hydrogen mixed with natural gas in porous geological structures is technically feasible.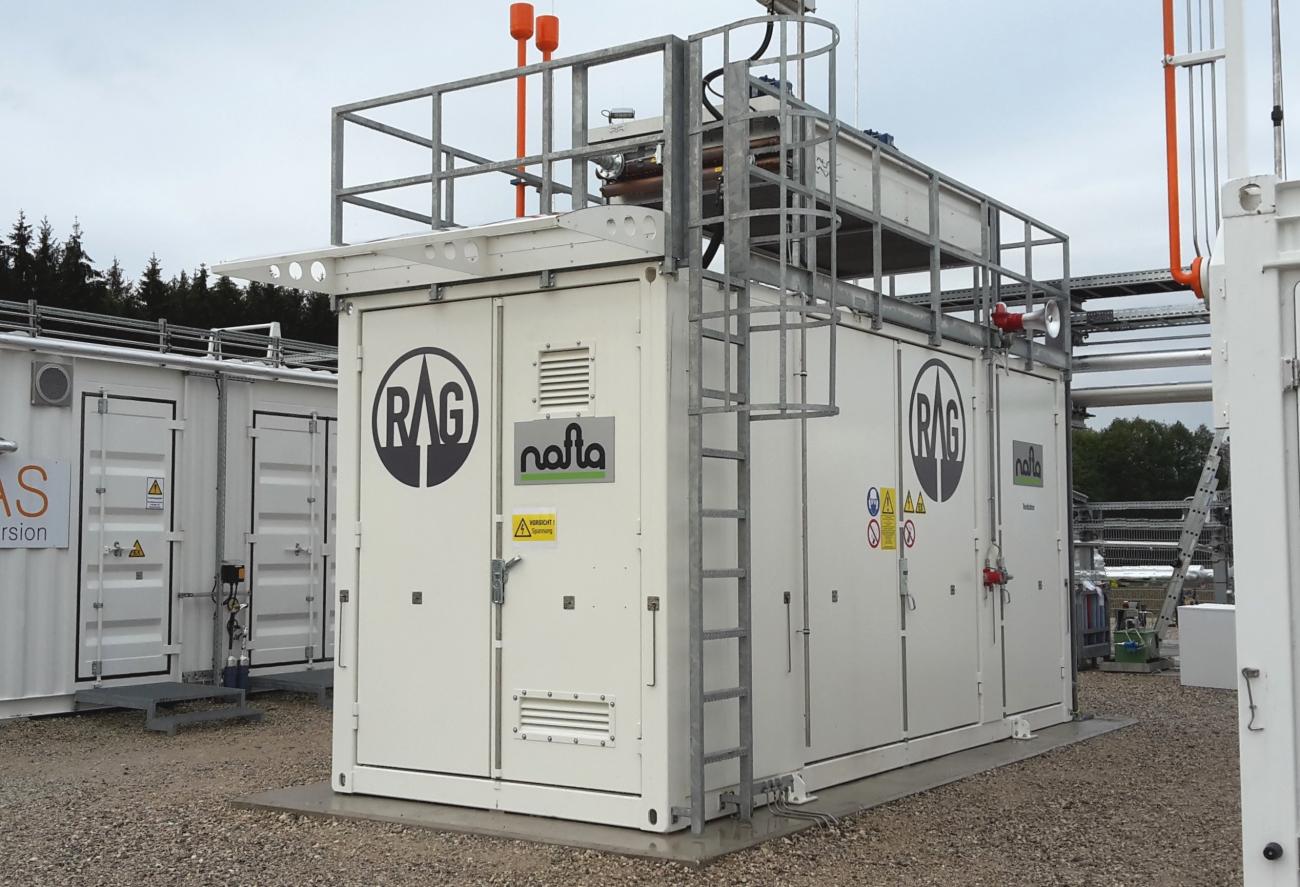 H2-Infrastructure Storage & Distribution
NAFTA is working together with SPP – distribúcia, in Important Projects of Common European Interest (IPCEI) and has succeeded in the national selection process for research, development and innovation projects.
In the storage part of the project NAFTA seeks to identify an appropriate location for storing hydrogen mixed with natural gas.
Based on laboratory research, the maximum permitted concentration of hydrogen will be defined. This research would be affirmed through pilot testing in the next phase of the project, where electrolysis would produce hydrogen before it is stored in a defined mixture with deposited natural gas. The project has applied for IPCEI status and documentation is currently being prepared for assessment by the European Commission.
HyUsPre
Along with project H2 Infrastructure, NAFTA is part of another major, innovative green energy project, joining the call from the Fuel Cells and Hydrogen Joint Undertaking (FCHJU) to explore the possible impact of hydrogen on porous layers underground. It has successfully become a partner in a broad consortium representing almost every member state of the European Union. Together, they have created HyUsPre, a project that has successfully received funding from the FCHJU.

This European project is headed by the Dutch company TNO along with research institutions, universities, industrial partners in Europe and other organizations. In addition to laboratory research, it will include specific modelling of a hydrogen network in Europe connected to underground storage facilities. Further details about the project will be available as it commences.
BIO - UGS
As the economy and energy transitions to low-carbon, industrial CO₂ and green hydrogen produced from renewable resources need to be stored in porous underground structures. While this would contribute toward reducing greenhouse gas emissions, it involves creating a facility for disposal of excess renewable energy and hydrogen. Microbial conversion of CO₂ and H₂ into CH₄ allows existing gas infrastructure to be still used in the future without restrictions. Therefore, the project seeks to determine the conditions under which process could be active, the impact of changing the concentration of H₂ and CO₂ on the entire process and any other potential reactions that could be run. It also includes identifying process optimization options. BIO - UGS is being run in cooperation with DBI (Gas und Umwelttechnik), while the other research project partners are Friedrich Schiller University, MicroPro GmbH, Isotect GmbH and other industrial partners.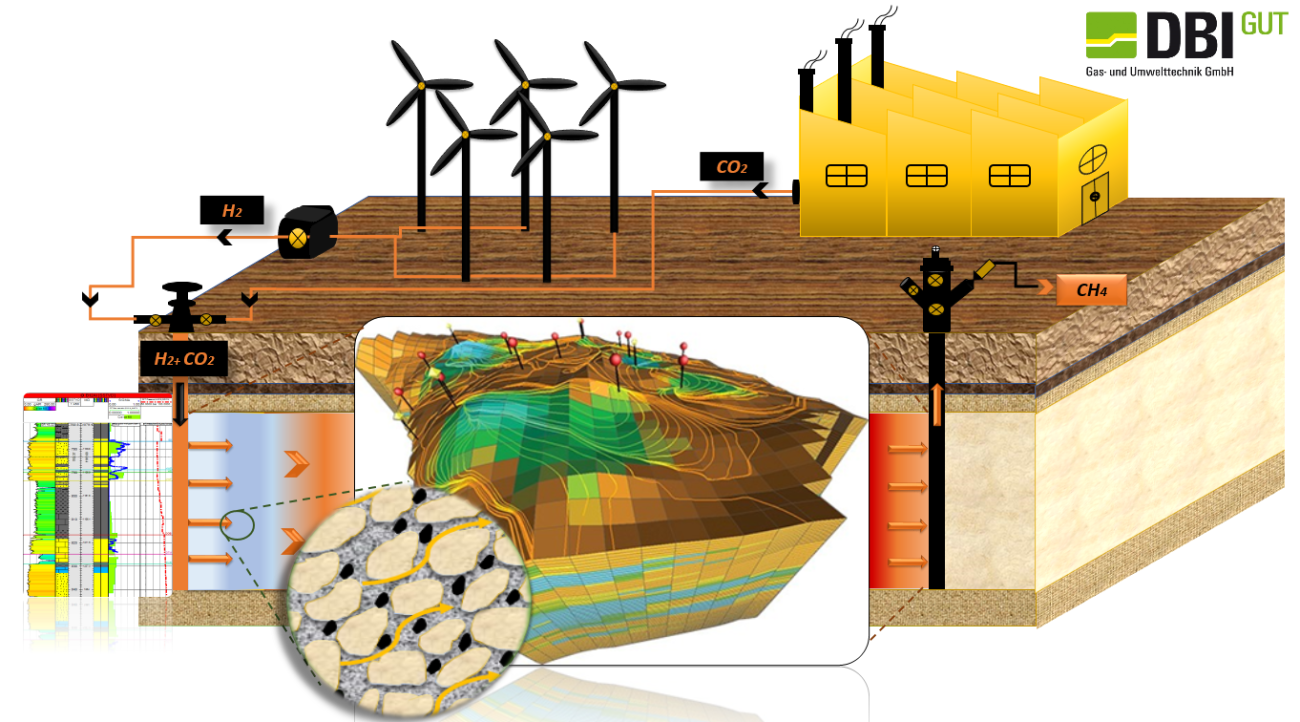 Our competence will be developed within several Slovakian and European professional organizations including the European Clean Hydrogen Alliance, which NAFTA joined in 2020.
NAFTA's underground gas storage facilities clearly have much to offer for energy storage in the future, thanks to their extensive capacity and the company's advanced technology and background knowledge.